Sharing content via social media platforms should be part of every marketing strategy.
Using a WordPress social sharing plugin is a great way to make sharing blog posts easy and attractive to your readers. Displaying a share counter acts as "social proof" that your content is relevant and engaging, encouraging even more sharing.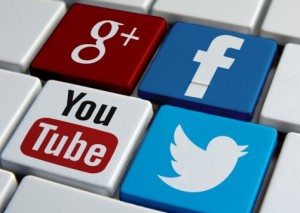 The exposure from social sharing can effectively crowdsource your linkbuilding and boost your search engine rankings in the process.
Encouraging social sharing is also one of the best ways of forming an online community who are talking about your content and sharing it with their peers, ramping up your reader engagement.
There are a ton of WordPress social sharing plugins available, which can be confusing, and finding one that works well and displays the sharing buttons nicely is a challenge.
After loads of testing we found a social sharing plugin that ticked all the boxes.
You can see it in action here on the  WP Copilot blog, and we are now huge fans of this social plugin called Easy Social Share. And we think that you're WordPress website could benefit from it too!
Why Easy Social Share?
First of all, while many other social sharing plugins have good functionality, they often have layout issues. You'll often see sharing icons that are all slightly different sizes which looks untidy, and well, unprofessional. This is because they use the embedded code from each social media platform, which are not consistent.
Other plugins use their own images and buttons to get around this, which can also mean a faster loading time for your website.
Easy Social Share is one such plugin, with a clean, customisable layout that makes integration on virtually any WordPress website look great. Plus, the layout is customisable so that you can play around until you find something that is a great fit with your content and encourages sharing.
Aspects of the design that are easy to change are the button styles and counter positions. Perhaps you wish to have a small Facebook icon or perhaps you want to display all your sharing statistics at the bottom of your post. These features are easily customisable using the plugin. In fact there are 9 different templates to start from, below are just a few.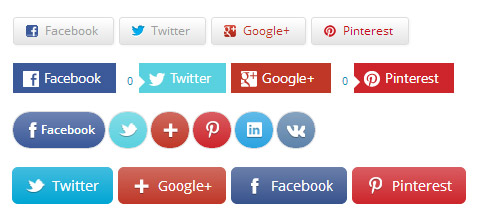 You can also add text or a call to action to further encourage engagement.
We noticed some social sharing plugins showing incorrect counts, Easy Social Share provides total accuracy. If you have strong engagement on your site, these figures will help to promote trust levels among your readership.
In order to make sure that your social sharing strategy is working in your favour,
it is imperative to use a plugin such as Easy Social Share that comes bundled with robust analytics. With a Click Log and access to other statistics, you will be able to know exactly how your readers are sharing your content: from which posts and to which social platforms.
Where to get it
Easy Social Share stood out to us as the best WordPress social sharing plugin and is available on the plugin marketplace codecanyon.net. If you want to experience the benefits of a robust social sharing platform that can boost your engagement with style, it's a tiny $12 investment.