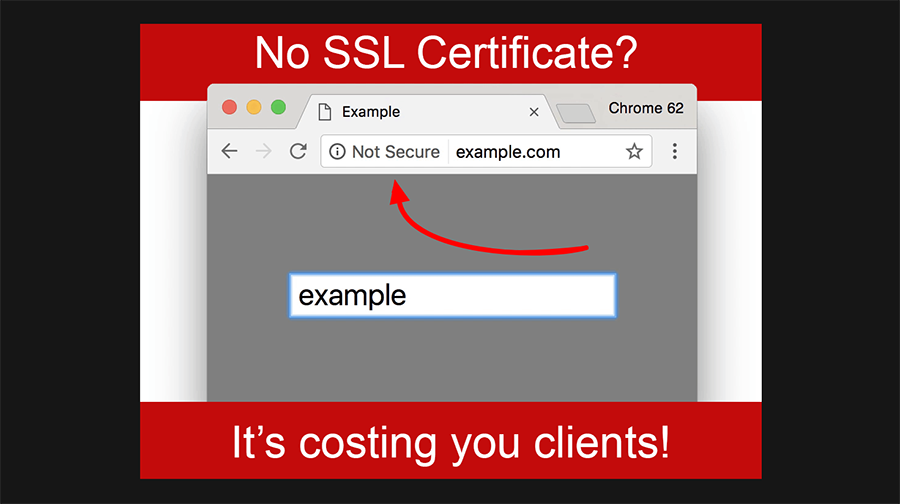 If you don't have a WordPress SSL certificate, when potential customers fill in contact forms on your site Google Chrome pops up a "NOT SECURE" message. Obviously this can scare many away, losing you sales and leads. Don't take my word for it, check your own website now – open your contact page and start filling in the form.
Is Google displaying a "NOT SECURE" message on your website?
It's only going to get worse unless you act. Starting in July 2018 Google announced they will display the "NOT SECURE" message on EVERY page on unsecure websites. Obviously this huge conversion killer is costing you customers.
The solution is to setup a secure connection with an SSL certificate. This means data your visitors enter is protected with encryption and your website is accessed securely via HTTPS. Google will reward you with a trust building green padlock symbol instead of the off-putting "NOT SECURE" message. 
We've completed hundreds of WordPress HTTP to HTTPS conversions with free SSL certificates. Hiring WP Copilot's expert WordPress Developers ensures it's done efficiently and done right. Here's the key steps for complete SSL certificate installation.
Install and setup your free SSL certificate*
Update your domain records
Configure WordPress for HTTPS
Setup 301 redirects (HTTP -> HTTPS)
Fix SSL mixed content errors
Update Google Analytics tracking for HTTPS
Regenerate sitemap and submit to Google
Setup bonus website security firewall
*If you were to buy a WordPress SSL certificate from your hosting company it would cost between $200-$500, and that's an annual cost to renew it every year. We setup a free Cloudflare SSL certificate so there are no ongoing costs to you. An added bonus is Cloudflare's website security firewall! Become a WP Copilot member today, get your sales back and save with a free SSL certificate for WordPress.
Need 1st Class WordPress Support?