Every time a new WordPress update is released we get asked the same questions. Should I update WordPress to the latest version? How often should I run plugin updates?
With each new release of WordPress, developers fix bugs, add features and patch security vulnerabilities. So not updating obviously puts your website at risk.
We all have different needs that WordPress can't satisfy out of the box. That's where plugins and themes come in to add functionality and styling. The plugins and themes installed on your website are maintained by their developers, so updates become available on their schedule.

How do you know if WordPress, plugin or theme updates are available?

Login to your WordPress dashboard and you'll see a red circle if new updates are available.
Next click "Updates" in the menu to see more details. From here you can run WordPress, plugin and theme updates with just a few clicks.
But first…
Make sure you take a backup. Most hosting companies provide CPanel access to your account where you can backup your website files and database. There are also number of WordPress backup plugins available. Having automated daily backups of your WordPress themes, plugins, uploads, and database is important. You'll also want the ability to restore any backup for the past 30 days. VaultPress is a good option that does just that from $5/mth.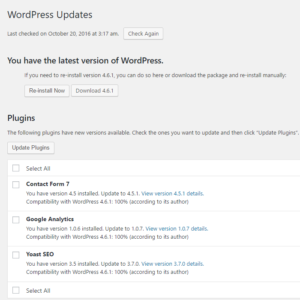 Do you have a large number of plugins installed? More plugins mean a higher frequency of updates, so periodically review your plugins and remove any you don't really need. This goes for themes too, so remove the default themes "twenty thirteen", "twenty fourteen", "twenty fifteen", "twenty sixteen" if not in use.
Some plugins are abandoned and will never see another update. Check their wordpress.org page and if you see the message below, replace them with supported alternative plugins.
Always enter a license key for your premium plugins. Buy a licence even if they are bundled with your theme to enable updates and support the developers.
How often should I run updates?
I recommend updating WordPress, themes, and plugins on at least a monthly basis. This ensures they will stay compatible with each other, and also prevents hackers from getting in and uploading malware. If you don't update, I guarantee you will end up being hacked sooner rather than later. Any business owner that's been through it will tell you that's not a pleasant situation to be in.
Sometimes after running updates you might find that things go wrong or no longer work. This is when it pays to have a backup, or even better, expert WordPress help to assist with the update process. Keeping your WordPress website up to date will actually save you money in the long run.