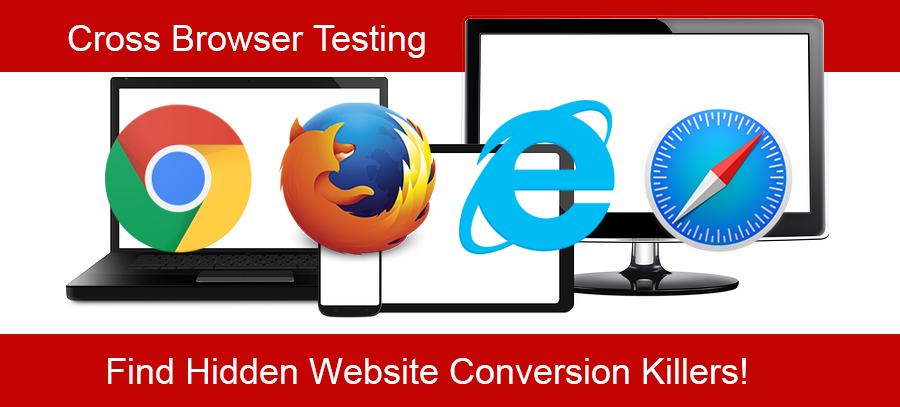 You might periodically check your website on your phone, maybe your laptop, but are you seeing what your customers are seeing?
What does your website look like on Android phones or iPads? What about different browsers like Google Chrome, Safari, Microsoft Edge. Now add to that different browser versions.
Sometimes issues only appear on a particular browser or device. With all these combinations hidden conversion killers can go unseen, simply because potential customers are using a different device or browser to you.
Here are examples of critical issues shrinking sales and leads without the business owners even knowing it.  With cross browser testing these were discovered and fixed, instantly boosting conversion rates!
Mobile navigation menu completely missing

The last digits of a phone number missing

A one star review showing near a lead form
Not every website will have severe conversion killers like the above examples, but if there was something holding back your conversion rate by only a few percent you'd want to know about it right?
Enter cross browser testing. Our cross browser audit aims to find differences between or issues on the most popular browsers and devices, to ensure a consistent experience for all your website visitors.
These 9 combinations of browsers, versions and devices represent the most popular as of October 2017 in Australia.
Windows 10 – Microsoft Edge 14

Windows 8.1 – Firefox 55

Windows 8.1 – IE 11.0

Windows 8  – Chrome 61.0

Windows 7 – Chrome 60.0

Mac – Safari 10.0

Android Phone – Chrome 60.0

iPad – Safari 9.0

iPhone – Safari 10.0
For piece of mind we can test your most critical pages and report on any issues discovered.
Need 1st Class WordPress Support?